Shopping Cart
Your Cart is Empty
There was an error with PayPal
Click here to try again
Thank you for your business!
You should be receiving an order confirmation from Paypal shortly.
Exit Shopping Cart
Sani-Abu - Founder, Executive/Artistic Director
Born into a family of traditional dancers, Sani-Abu began performing and touring at the age of 15 with Benin City's Uyi-Edo Dance Theater Troupe. He spent the past seven years in New Jersey and New York performing, teaching and collaborating with top leading dance companies such as Alvin Ailey American Dance Company, The Seventh Principle, Michael Mao Dance Company, The Brighton Ballet Theater in collaboration with the Moscow Ballet, Zawadi African Dance Company and Sankofa Dance Theater to name a few.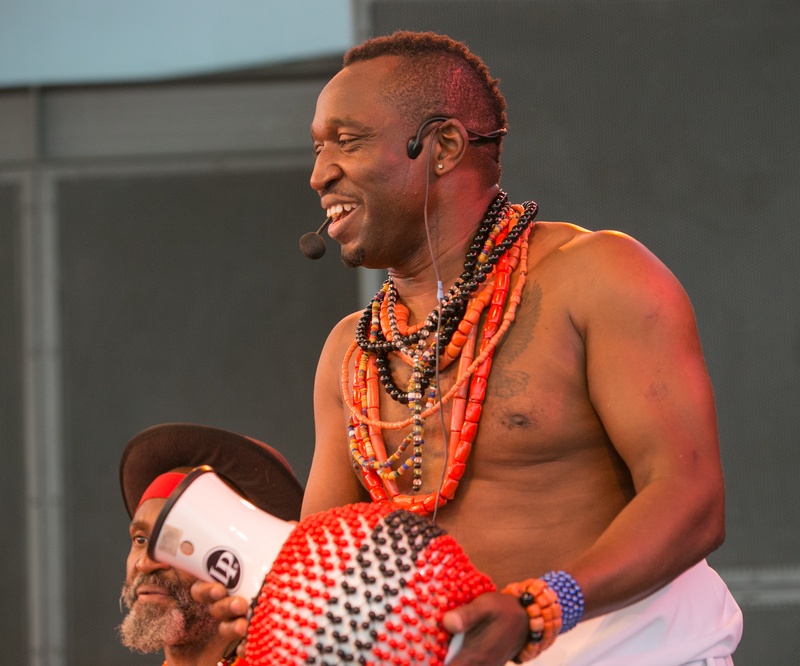 In addition, he has also worked with John Hopkins University in Baltimore, and was a resident artist and educator at the New Jersey Performing Arts Center. Sani has toured extensively in both Europe and Africa, and has been trained by some of the top dancers and instructors such as Aghabiomon Nogie Ogbeiwi (Uyi-Edo Cultural Troupe), Youssouf Koumbassa (Les Ballet Bagata), Muyiwa Oshinaike a.k.a Babanee (Black Marbles), Felix Okolo (Dance Heritage), Chuck Mike, Candace Hundley-Kamate (Seventh Principle) and Karen Miles (Zawadi Dance). In addition, he has appeared in various television programs, films, music videos, and has been featured on CNN, Nigerian Television Authority (NTA), Lagos State Television (LTV), and 98.7 Kiss FM (New York). In April 2005, Sani moved to Toronto to start ijo vudu! A traditional African dance company and Sani-Abu School for African and Contemporary Dance and in no time found a well-spring of artists bursting with enthusiasm to study and perform with him. He obtains an Artist-Educator Foundation Certificate through the Ontario Act Council and the Royal Conservatory of Music. With inspired guidance, Sani is swiftly schooling his performers in the traditional drum rhythms, social dances and cultural history of his native Country Nigeria. Since his arrival, he has been actively teaching and performing, and has quickly become a highly sought after artist in the city. In October 22, 2008, he was called with other professional dance choreographers to choreograph a 1 minute 20 seconds dance piece for the hit TV show, So You Think You Can Dance Canada!. In 2008, Sani was also appointed by the Nigeria High Commissioner to Canada Prof. Iyorwuese Hagher, PhD.D, OON to engage a cultural exchange between Nigeria and Canada. Since his inception in Canada, he established his clothing line called "KaBAH-KaBAHS", Sani-Abu School for African and Contemporary Movement, Vudu Media and ijovudu Culture and Heritage. He has performed and share the stage with notable top African icons such as Salif Keita, Youssouf N'dior, Baba Mal, Toby Foye, Billy Nnankoma Konate and Baba Toure all at the TD Canada Jazz Festivals. Both in 2009/2010, he was called to open up for the Broadway musical The Lion King and was part of the original cast of FELA.

Categories: PERFORMERS / PROFILES

0

/